07 June 2019
Art Basel: a guide for first-time art collectors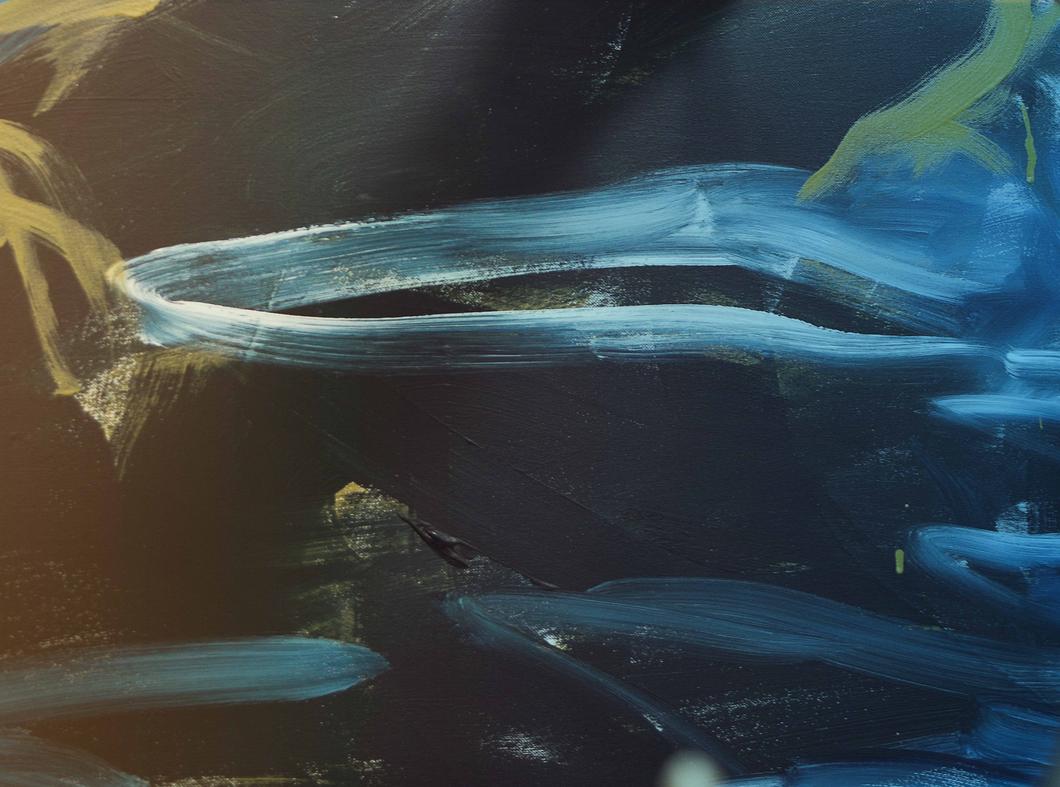 10 steps to help you make your very first entrée to Art Basel
Do you remember the scene of the designer's sample sale in the movie Shopaholic? The store door suddenly opens, the crowd screams, runs and pushes its way inside, literally fighting over the best designer's items in the middle of an almost apocalyptic chaos.
Well, Art Basel is nothing but a more glamorous and refined version of exactly that.

On the grand VIP preview day, the most powerful collectors worldwide queue at the entrance to the art fair on time for its opening, rush from booth to booth looking for the best pieces of art, greeting gallerists as old friends and concluding price negotiations before anyone else. Veni, vidi, bought it.
How can you, my dear first-time art buyer, compete with this powerful crowd of sophisticated, experienced art collectors? I'm sorry, but someone has to drop the bomb: you can't. BUT YOU CAN arrive prepared, make a good lasting impression on a gallerist and set the base for a long term relationship, which one day may lead to that highly sought-after ticket to the VIP art world.
Here below we gathered 10 steps to help you make your very first entrée to Art Basel.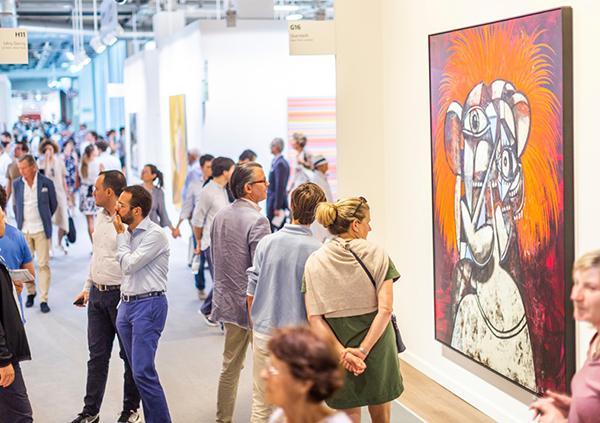 (Courtesy of Art Basel)
1. Visit on Thursday morning
Unless you are Leonardo Di Caprio's best friend or one of Angelina Jolie's children, your name won't be on any VIP list. Hence, no invitation to the preview on Tuesday for you.
As a novice art collector, you will need to adapt and visit the fair during its public days, between Thursday and Sunday. Our suggestion is to free your schedule and attend the fair on Thursday morning, as soon as it opens.
Actually, by then the gallery staff is quieter than during the hectic previews of the days before and will be happy to welcome you to their booths and tell you more about their exhibiting artists.
Additionally, on Thursday morning the fair is usually not too crowded, as the biggest art collectors have probably already visited and left, while the local public will come over at the weekend.
2. Book your hotel well in advance
Every year hotels in Basel get fully booked during the Art Basel week. Gallerists confirm their reservation for the next art fair edition a good year in advance; hotel staff place their best rooms on hold for their regular visitors and often require a 5-night minimum stay during Art Basel too.
Make sure to book your stay at least 8-9 months in advance.
3. Dress smart
You can't judge the book by its cover? Forget about that. Particularly if you are not yet known to the art world, appearances count. A LOT. After a couple of hours on the fair's premises, you will have seen more Prada suits and Louis Vuitton purses than in your entire life.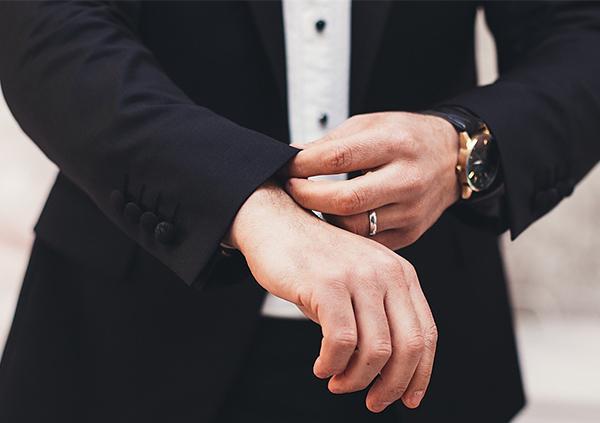 4. Know where to go for your style and budget
Art Basel is formed by a main core, the Galleries Sector, surrounded by numerous satellite fairs, such as Art Basel Unlimited, Scope, Liste and Volta Show, amongst others. The highest-priced works and blue chip galleries dominate the Galleries Sector, Unlimited exhibits over-dimensioned art pieces, Volta is the show for established mid-range international galleries, while Liste is the fair for finding emerging artists.
Prices, artistic styles and audience vary accordingly. The Galleries Sector attracts treasures hunters, art investors and commercially successful artists, though the exhibiting booths usually display less variety with never-ending carousels of the same names: Damien Hirst, Stingel, Koons, Damien Hirst, Stingel, Koons, Damien Hirst.
The Volta Show tends to be more varied artistically and normally presents art valued at no more than a few hundred thousand US dollars. Collectors at Art Basel Unlimited and Parcours look for large statement and outdoor pieces.
5. Plan your visit
Visiting the entire Art Basel and its satellite art fairs will require a whole week. If you have just a day or a few hours available, then you will want to make sure to study the galleries, their artists and their location on the fair premises in advance.
The official Art Basel's website and Artsy always publish previews of the artworks to be found at the fair. Artnet and Artprice are two helpful tools to research the artist's market value.
You can also try and request a preview list of works with their prices directly to the gallery, though gallerists don't usually share this information with collectors unknown to them.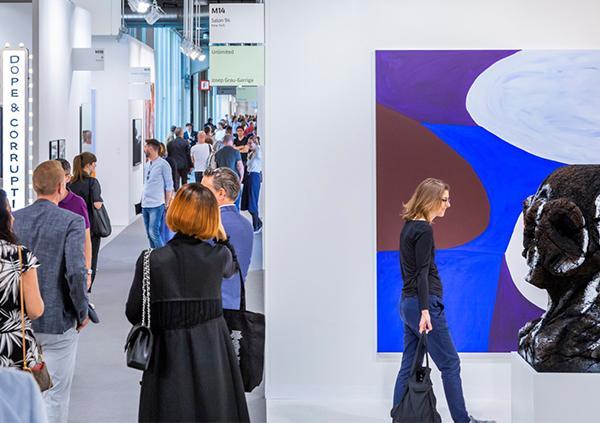 (Courtesy of Art Basel)
6. Have your business cards ready
Whether you decide to buy an artwork, put it on hold or just chat with the gallerists and subscribe to their newsletter, you will need your contact information at hand. A business card spares you the annoyance of writing down your contact details over and over again.
7. Take pictures
At the fair you will see hundreds of artworks. Remembering all of them and their location at the fair can be a struggle.
Taking a picture of your favorite ones, their label and the gallery name will be a life-saver, should you decide to go back and buy one of them later.
8. Don't surrender to the pressure
Some gallerists are masters of persuasion. When seeing you in doubt about an artwork, they may try to pressure you into buying it on the spot by citing the great demand there is for the artist, the good price they are offering you and positive market predictions for the next years. Selling it's their job and they do it really well.
However, don't give in. Instead, ask to have the work put on hold for you, leave your business card with the gallerist and ask him to give you a call after the fair or in case another collector be determined to buy it. Take your time to think about it. If you can't make up your mind, renounce to it. You will find something else.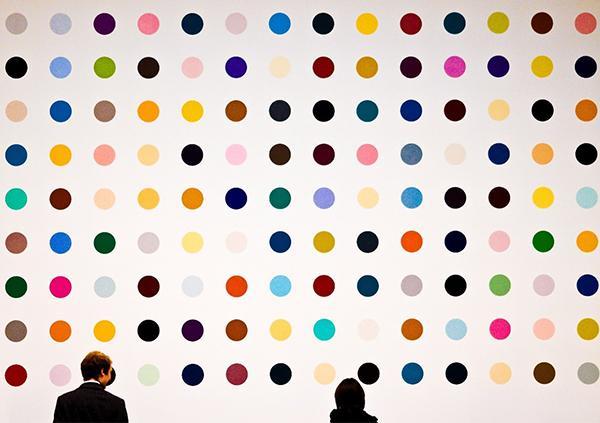 9. Bought it. And now?
Congratulation on your first purchase! Before you leave the gallery booth and go celebrate, please remember to clarify a few points with the staff.
First of all, the gallery's accountant will require your billing address to raise the invoice, which you will receive either on the same day or at the very latest shortly after the fair.
Secondly, ask where the artwork will be stored until the release of title and how it will be packed. In fact, the gallery will only release it to you once it receives the payment in full. This could be weeks or months after the end of Art Basel, depending on your agreement with them.
As you are a new client to the gallery, the latter may have planned of returning the work to its art storage on the other side of the world after the fair, just in case you fail to pay. Though, if you are based in Europe, this may be unpractical to you, as you will be in charge of paying for the shipment to your chosen address after the release. Discuss the logistical issues with the gallerist and find a compromise you are comfortable with. For example, the work could be left in a Swiss Freeport until the payment date.
10. Call KENDRIS if you are lost!
The tax implications of your art purchase are confusing, the customs and shipping arrangements too time-consuming or the future of your newly-started art collection unclear?
No worries!
Our Art Management department is based in Basel and just one phone call away. If you're lost, confused or unsure about what to do with your newly purchased artwork, don't hesitate to contact us. We'll be glad to guide you in this fascinating world that is the art market.